ULTRA MOBILE CONCRETE AND STABILIZATION PLANT
ELKON MIX MASTER – 30 is a concrete batching plant designed to work on construction sites, where it is required to meet international standards even for the production of the smallest amount of concrete, thin base or stabilization.  Its unique design and fast installation possibilities enable the production of concrete in any place, wherever there is a demand. The production of concrete directly on the construction site reduces transport costs and emissions.
All components of the concrete plant, including aggregate hoppers, disc or planetary mixer (weighing the aggregate is done in a mixer), weight of water and chemical additives, water pump (the system can draw water itself e.g. from the water tank), control and electrical panel are installed on a trailer equipped with an axle and tyres. Installation of ELKON MIX MASTER – 30 in a new place takes only a few hours and does not require a crane.
Electronic scales in accordance with international OIML standards (EC primary verification or calibration can be carried out) allow for very accurate weighing and automatic production control, which in turn makes the manufactured concrete meet all rigorous standards. As an option, the concrete mixing plant can be equipped with a computer with a database and fully-fledged software for the production of high-quality certified concrete (possibility to carry out factory production control).  An optional remote control enables concrete production without the need for intervention on the operator panel.
ELKON MIX MASTER – 30 is a concrete batching plant designed to work on construction sites, small prefabrication plants where high-quality concrete, thin base or stabilization is required. Depending on the needs, the batching plant can be equipped with 2 or 4 aggregate hoppers with a capacity of 5m3 for different types of aggregate. Concrete plants can be equipped with two types of mixers: disc or planetary (e.g. for precast concrete or fair-faced concrete). The concrete discharge is located at a height of 1m. Optionally, it is also possible to install a concrete discharge conveyor for a concrete mixer or a tipper, which is recommended for high capacity.
The mini concrete batching plant is equipped with a buffer tank for the use of bagged cement, optionally it can also be supplied in a 50 or 75t vertical or horizontal silo with a capacity of 40 or 70t, which significantly reduces the baskets for the production of concrete using cement supplied in bulk.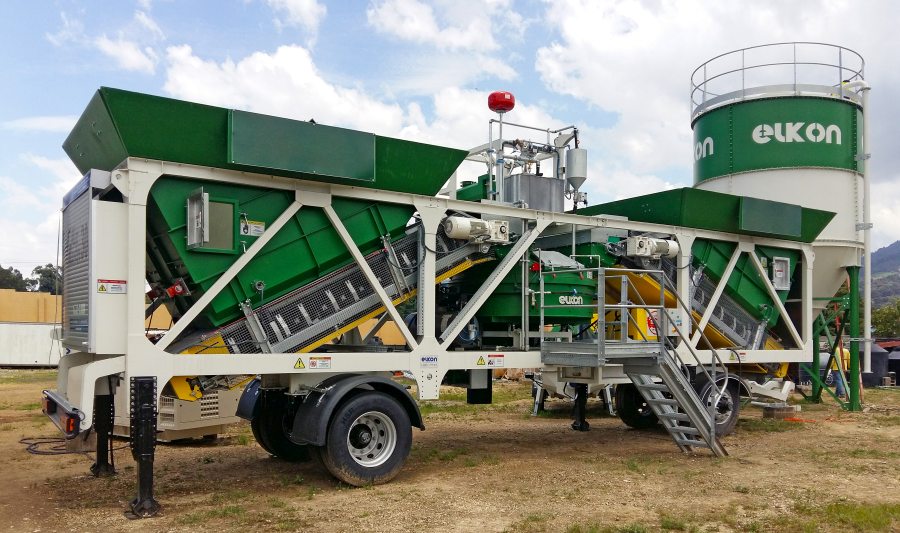 ADVANTAGES OF THE ULTRA-MOBILE CONCRETE PLANT AND STABILISATION ELKON MIX MASTER 30 AND  60
Increasing profits and lowering the costs of purchasing stabilizers and concretes thanks to their own production from the ELKON Mix Master ultra-mobile manufacturing plant – we skip the manufacturer's margin.
Increased profits thanks to reduced costs of transport of stabilizers and concretes and delivery time due to production exactly at the location of demand – the plant can be installed for example directly on the construction site.
Obtaining control over the quality of final products (unfortunately, it happens that stabilizers or concretes purchased from suppliers have composition inconsistent with the actual quantity and quality of components used, e.g. cement or aggregates) – in case of construction sites it may cause far-reaching consequences, even difficult to estimate.
Independence from local suppliers and their production capabilities – there will be no need to wait for products, postpone deliveries, delays, etc.
The factory is equipped with a computer, a possibility of programming recipes, production memory enables WZ printouts, which allows to implement ZKP (Factory Production Control) if necessary.
By using a specially designed wet concrete loading system for concrete mixers, you can not only produce for your own needs, but also sell ready-mixed concrete in many categories. And, of course, the same applies to stabilization.
Very fast assembly and disassembly as well as easy transport – this is a unique solution for concrete and stabilization plants. The operation takes only 2-3 hours!
Low price in relation to additional development possibilities and possible additional profits.
Thanks to its special ultra-mobile construction, the plant can be installed almost anywhere, even when there are no fixed power and water connections in the field; Mix Master is also suitable for power supply from a power generator and for drawing water from ordinary (non-pressure) water tanks, which makes the plant a completely independent unit.
No time-consuming official procedures are necessary for the installation, and in most cases no building permit is needed.
The small dimensions allow the unit to be installed in the hall and they enable all-year-round production. Of course, it is also possible to "garage" the machine in winter, if it is not needed then – it will not be as susceptible to weather conditions as large machines.
Ease of operation and production implementation; the plant is highly automated, we provide after-sales training. Very soon after the purchase you can start using the machine. One of the additional functions of the Mix Masters is a remote control, programmable up to four formulas, thanks to which even one employee is enough to operate the factory!
Ease of leasing, in a simplified procedure, without the need to send piles of documents and wait for a long time for a decision, among others, in our company's ELKON Finance leasing programme.
Mix Mastery is an ideal, small plants to start up with if you are interested in concrete or stabilization production, including customers who have never dealt with it.
You can earn extra money with the use of the ultra-mobile ELKON Mix Master when you don't need it for current work, for example through:
Hiring with an operator for the construction sites of other contractors. For one of our customers, Elkon Mix Master 30 made a return in less than a year!
Selling stabilisation and/or concrete to other customers, including retailers (e.g. for house foundations, cesspools etc.).
Production of simple precast concrete products for their needs or for sale. Advanced production of prefabricated elements is also possible thanks to the option of being equipped with a planetary mixer and a moisture measuring probe in it.